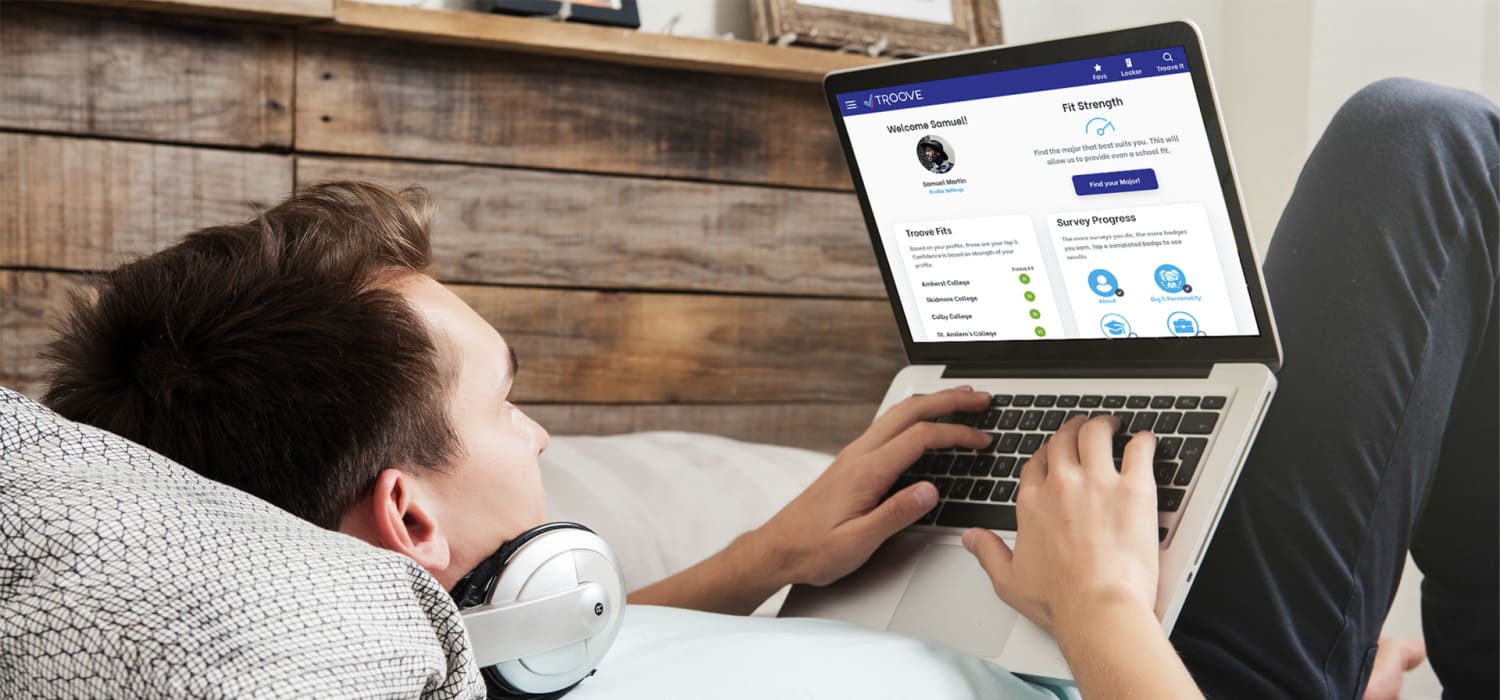 BURLINGTON, Vt. —
An exciting new company called Troove has entered the higher education arena with the goal of making college search and admissions more efficient and accessible. Troove helps applicants find their ideal fit, in and out of the classroom, by engaging alumni and current college students in the search process for the first time.
"Today, we all rely on the digital experience of others in how we date, dine and decide what to binge watch next. Troove will use this same technology to match applicants with the schools where people who share their same priorities, values, and interests have already found the success they want," said Troove founder David Hurwitt. He describes Troove as being similar to a dating website such as eHarmony.
Troove is powered by AI technology that gathers, mines and decodes experience data for any school to align with the values, abilities, priorities and ambitions of the students entering the admissions process. Its algorithms pair students with colleges by probing the DNA of both with surveys, coming up with the perfect fit both in terms of the educational and social environments. The unique methodology also factors in feedback from current students and alumni.
"The average college freshman today is twice as likely to drop out or transfer as they are to graduate on time from their first school," Hurwitt points out. "We believe today's best matching technologies can change this and help everyone find their people and their place right from the start." This will be especially true for underrepresented applicants, first generation applicants and those with more limited financial resources and support networks. "Today's system favors those with means and experience around them," says Hurwitt. "We're making Troove available and free to all students to make sure more of them can find their best path forward."
Troove was not developed for places like Yale, Harvard or Princeton where admissions officers have their pick of qualified applicants, resulting in very low acceptance rates. Troove is for the remaining 97 percent of colleges and universities where the acceptance rates are much higher. "In order to fill their need for students, these colleges and universities cast a wide net with their marketing campaigns to get as many applicants as they can, and then work the numbers down from there. It's an inefficient system," Hurwitt said.
According to Hurwitt, Troove's mission is to change outcomes by focusing on the right fit and therefore increasing the chances of finishing college as opposed to just getting in, which is often the easier part. He believes students will come to Troove for the best insights into major, career and school matches and schools for the deepest, most diverse pre-qualified selection of future graduates and opportunities to reach and engage alumni.
The name Troove is a play on the French word, "trouver" which means "to find," and the urban dictionary definition of "troove," which is another way to say "truth." It is now in beta testing with three colleges in New York, including Rochester Institute of Technology, SUNY College at Geneseo and St. Bonaventure.
Visit www.troove.me for more information.
###
About
Troove is the first technology to harness the power of alumni and current student experience to help students make the biggest decision of their lives.