September 14, 2021
Press Contacts
Janice Dobson
Archatrak
(406)551-4098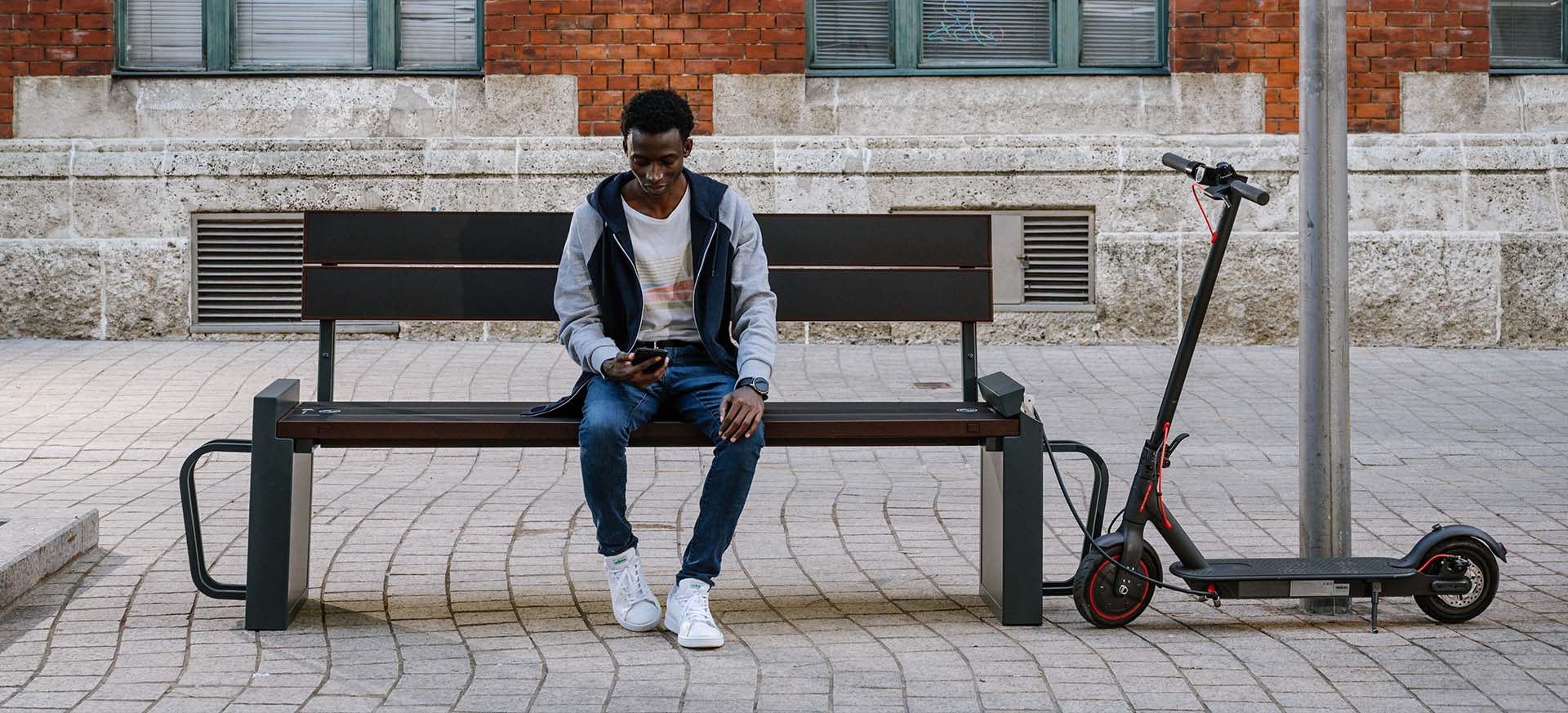 BOZEMAN, Mont. —
Archasol, a national supplier of solar powered products including phone charging stations, bench seating, workstations, exterior sign illumination and pathway lighting, has recently launched an advanced solar smart bench loaded with features specifically designed for micromobility vehicles, such as bikes and scooters.
In addition to rapid Qi phone chargers, environment sensors, Wi-Fi access and night lighting, the Steora 'Cyclo' smart bench is equipped with an air compressor, a tool kit for repairs, DC charging plugs for e-scooters and e-bikes, an AC outlet for laptop charging, and two bike racks. The Cyclo bench is just one of three new solar equipped benches being introduced by Archasol. All models are capable of remotely monitoring and recording the power output and system 'health' as well as environmental data such as temperature and humidity, via a web-based platform.
"There is nothing on the market that's even remotely as well designed and feature packed as these benches," says Malcolm Kay, CEO of Archasol. "And it's fortunate we are able to offer them at such a reasonable cost, considering the advanced technology involved."
Solar benches that offer little more than phone charging capability can easily run as high as $5,000 – 7,000 per unit. In comparison, and depending on the model and configuration options chosen, a solar equipped bench from the new Archasol Steora range can be comparable in cost to just a basic wooden park bench.
"For centuries, benches have only had one purpose," continues Kay. "The Steora 'Cyclo' bench goes miles further. It gives students the unique opportunity to charge their laptops before class, keep their cell phones fully charged, catch a Zoom meeting on the go and tune up their bikes for the ride home."

According to The League of American Bicyclists, despite 512 universities applying for their Bicycle Friendly University program, less than half of applicants have been certified. The Steora 'Cyclo' bench offers an impetus for achieving this organization's goals for a bicycle friendly America by fostering on-campus bike culture and making repair, maintenance and charging stations available to campus visitors.

The Steora 'Cyclo' solar benches are available in five standard colors, but other colors can be supplied on request. A backrest option with or without arm rests provides the opportunity for additional power generation, as the solar panels are cleverly integrated into each slat of the bench. Extra sensors can also be configured to measure fine particulate matter and noise decibels in the surrounding area.
"This is not just about cutting down on carbon emissions, it's also about giving students and faculty convenient access to tools that will enhance their college experience."
###
About
Archasol is a division of Archatrak Inc., a national supplier of porcelain pavers, wood deck tiles, deck support systems and site furniture, established in 2004. Archasol was formed specifically to promote solar powered products which demonstrate a commitment to the use of renewable energy. Our solar lighting products combine sophisticated technology with superior quality, excellent design and outstanding performance and reliability. Visit us at www.archasol.com