November 04, 2021
Press Contacts
Christine Ottow
6109476300 X1238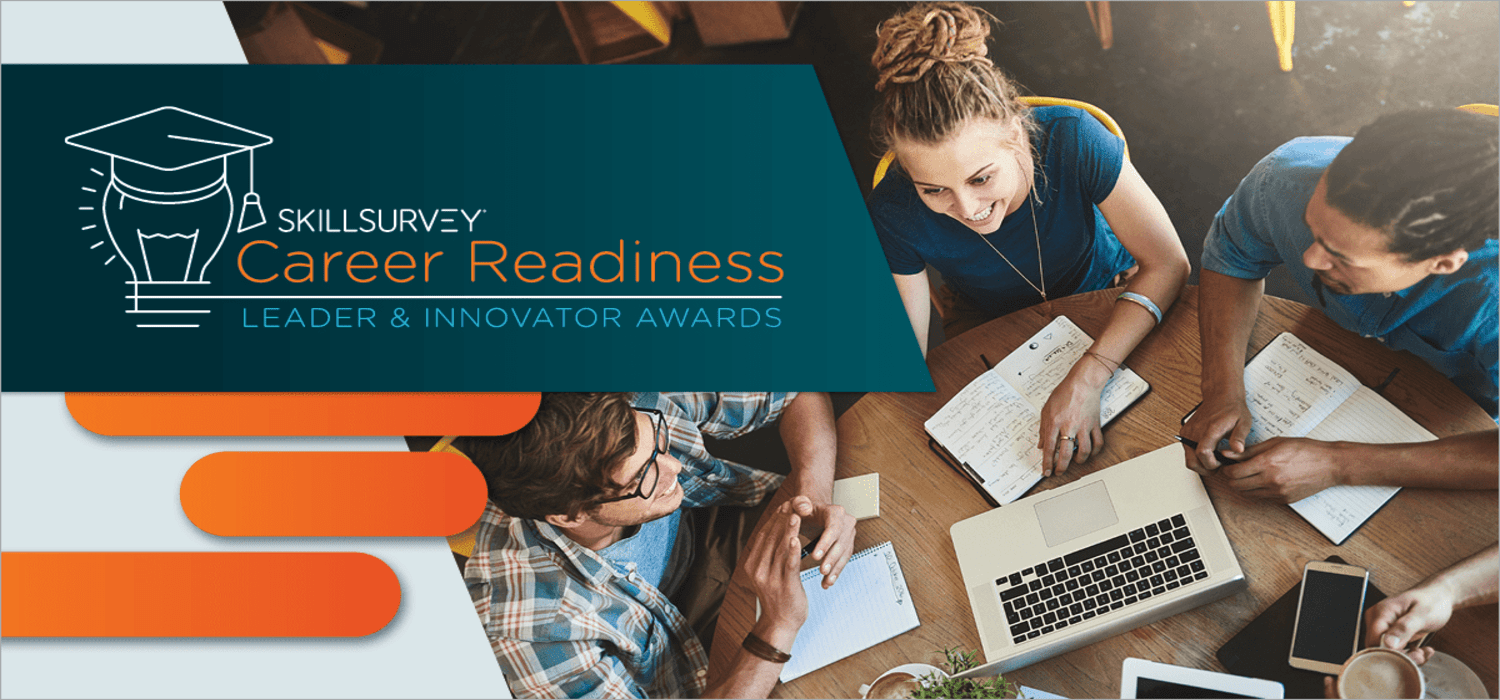 BERWYN, Pa. —
Awards recognize top-performing institutions whose students received the highest evaluator ratings from over 60,000 supervisors and over 20,000 employers following an internship, co-op, or other work-related experience.
SkillSurvey, the leading provider of talent intelligence and career readiness solutions, announced its first ever "Career Readiness Leader & Innovator Awards" to recognize institutions that demonstrate success in career readiness. SkillSurvey Career Readiness® uses proven HR technology developed by I/O Psychologists based on behavioral science and job competency modeling so that students are rated on behaviors key to employers and to workplace success. Participating institutions obtain feedback from supervisors and co-workers following internships, co-ops, student employment, or other work experiences using behaviors mapped to the eight NACE competencies.
Over 170 Higher Education institutions have used SkillSurvey's Career Readiness platform developed in partnership with the National Association of Colleges and Employers (NACE) to evaluate their students. SkillSurvey reviewed the student ratings of these schools and now recognizes the top performers with the highest-rated students from this group. These colleges and universities have taken the lead to measure students' career readiness in the competency areas that employers value most.
"Congratulations to the winners! We're thrilled to honor institutions that are innovative in supporting career readiness using SkillSurvey's solution, which provides students and campus leaders with 'hard data on soft skills'" said Randy Bitting, Head and Co-Founder of Career Readiness at SkillSurvey. "More than 170 higher ed partners are using SkillSurvey to bring consistency in measuring students' readiness for the workforce, and we want to highlight the Leaders and Innovators for their results and commitment to student success."
SkillSurvey Career Readiness provides career services, student employment, and academic programs with individual Career Readiness Reports and first-of-its-kind data to discover insights into how 'career ready' their institution's students are compared to students nationally and to actual job candidates.
Employers providing supervisor ratings and evaluative feedback via SkillSurvey encompass 20,000+ companies, government agencies and non-profits. Amazon, Apple, Daimler, Google, International Paper and Northwestern Mutual are among the top-20 companies submitting the most feedback on students.
2021 CAREER READINESS LEADERS
*Note institutions are listed in alpha order for each category
**Students rated by Supervisors on 30 behaviors tied to 8 NACE competencies
Top 10 "Career Ready" Institutions**
Brigham Young University
Concordia University St. Paul
DePaul University
Emory University
O'Neill School of Public and Environmental Affairs, Indiana University
Seton Hall University
State University of New York at Oswego
Temple University College of Liberal Arts
University of Maryland College Park
University of Virginia
Top 10 Institutions for "Critical Thinking" (Students rated by Supervisors on the NACE competency "Critical Thinking")
Brigham Young University
Emory University
Florida State University
Regis University
Seton Hall University
State University of New York at Oswego
Temple University College of Liberal Arts
University of Florida
University of Virginia
Wellesley College
Top 5 "Career Ready" Business Schools**
Jack C. Massey College of Business - Belmont University
David Nazarian College of Business and Economics - California State University, Northridge
Fowler College of Business - San Diego State University
Heavener School of Business - University of Florida
Williamson College of Business Administration - Youngstown State University
Top 5 "Career Ready" Engineering Schools**
Stevens Institute of Technology
The Ohio State University
University of South Alabama
University of South Carolina
Wichita State University
Top 10 Institutions with "Career Ready" Feedback for First-Generation College Students
Arizona State University
Cedar Crest College
Concordia University St. Paul
The City University of New York
George Mason University
Regis University
Santa Rosa Junior College
Schreiner University
University of North Carolina, Greensboro
University of Houston
2021 CAREER READINESS INNOVATORS
Best Career Readiness Student Landing Page
Most Innovative Career Readiness Marketing
First Institutions Tying Career Readiness Ratings to Accreditation
Auburn University Samuel Ginn College of Engineering | ABET
Brigham Young UniversityCommunications Internships| Accrediting Council on Education in Journalism and Mass Communication (ACEJMC)
University of Toledo | The Higher Learning Commission
Purdue University Fort Wayne | AACSB
Oregon State University | AACSB
Most students posting Career Readiness Reports as Linkedin certificates
Auburn University – Samuel Ginn College of Engineering
Emory University
State University of New York at Oswego University of Maryland, College Park
University of Virginia
First Institution to Publicly Promote Career Readiness Results
Early Start Innovator for starting career readiness awareness in freshman year
Purdue University Krannert School of Management
The dataset to identify top institution categories contained a total of 39,135 students across 175 institutions of Higher Education that had supervisor evaluations for at least 100 students. For each student, percentiles were computed based upon their average numeric ratings as compared against the distribution of ratings of all students. Institutions with the highest percentage of students falling at or above the 90th percentile for each educational institution were selected.
###
About
SkillSurvey provides a talent intelligence platform you can trust – trust inspired by great data, proven science and actionable information to empower the best possible talent decisions. Our platform delivers measurable data at critical touch points of the employee lifecycle, from hiring to employee exit. We help 33,000 users empower the best possible talent decisions with more than 150,000 job candidates entered into the SkillSurvey platform each month.
Visit SkillSurvey at www.skillsurvey.com, and on Facebook, LinkedIn and Twitter.
SkillSurvey®, SkillSurvey Reference®, SkillSurvey Source® and SkillSurvey Post-HireTM are registered trademarks or trademarks of SkillSurvey Inc. or its affiliates and are registered in the U.S. and other countries.
© 2021 SkillSurvey Inc. and its affiliates.